October 19, 2018
Based on what has been submitted by His Royal Highness Prince Mohammed bin Salman bin Abdulaziz Al Saud, the Crown Prince and President of the Council of Political and Security Affairs, to the Custodian of the Two Holy Mosques, His Majesty King Salman bin Abdulaziz Al Saud, on the urgent need to restructure the General Intelligence Presidency, and overhaul its rules and regulations, as well as, to determine its authorities and assess its procedures and powers within its administrative and ordered organizational sequence to ensure the proper functioning of its work and the determination of r
October 19, 2018
The Kingdom of Saudi Arabia's Public Prosecutor stated the following: preliminary investigations carried out by the Public Prosecution Office into the disappearance of citizen Jamal Khashoggi revealed that the discussions that took place between him and the persons with whom he met him during his visit to the Kingdom's Consulate in Istanbul led quarrels and an altercation, which tragically resulted in his death.  The Public Prosecutor confirms that its investigations into this case continue with 18 individuals, who are all Saudi nationals, in custody with the aim of reaching all the facts a
October 03, 2018
The Custodian of the Two Holy Mosques His Majesty King Salman Bin Abdulaziz Al Saud on October 1 ordered the provision of a $200 million donation to the Central Bank of Yemen to bolster its financial position.  This directive is in continuation of Saudi Arabia's consistent approach to support the Yemeni people and the Yemeni government, and based on the interest in stabilizing the Yemeni economy and enhancing the value of the Yemeni currency forth sustainability of Yemen.  This economic support will contribute to the alleviation of the financial burden on the Yemeni people and is in additio
October 01, 2018
In response to claims in recent press reports, a spokesperson for the Public Investment Fund (PIF) stated that media articles claiming that work has been shelved with respect to SoftBank and Solar Projects are completely inaccurate.  The spokesperson added that the Public Investment Fund continues to work with the SoftBank Vision Fund, and other parties, on a number of large-scale, multi-billion dollar projects relating to the solar industry, which will be announced in due course.
September 26, 2018
A new agreement to boost support for the UN's youth related work around the world was signed yesterday at a ceremony in the UN's headquarters in New York by the Misk Foundation and the Office of the UN Secretary-General's Envoy on Youth (OSGEY). The Misk Foundation, a non-profit philanthropic foundation established in 2011 by H.R.H.
September 25, 2018
An official in the Kingdom of Saudi Arabia's Ministry of Foreign Affairs has stated that the Kingdom categorically rejects accusations made by Iranian officials about Saudi Arabia's support for attacks on Iran's Military Parade on Saturday. The source added that Saudi Arabia's policy is clear about non-interference in the internal affairs of other countries and its comprehensive rejection of any interference in its internal affairs.
September 25, 2018
The Kingdom of Saudi Arabia welcomed the statement by His Excellency the Minister of Foreign Affairs of the Federal Republic of Germany Mr. Heiko Maas, which included his intention to work towards strengthening the bilateral ties and enhancing cooperation in all areas between the Kingdom and Germany.
The Kingdom affirms the deep strategic ties it enjoys with the Federal Republic of Germany, as it is a historic and important relationship for both countries. The Kingdom and Germany play a leading role in bolstering international security and stability, and the global economy.
September 25, 2018
The Arab coalition to restore legitimacy in Yemen has established three safe corridors for civilians to travel between the cities of Sana'a and Hodeidah. Spokesman Col. Turki Al-Maliki said on Monday that the corridors between the former capital that was seized by the Houthi militia in 2014 and the country's biggest port on the Red Sea have been set up in cooperation with the United Nations Office for the Coordination of Humanitarian Affairs (OCHA).
September 18, 2018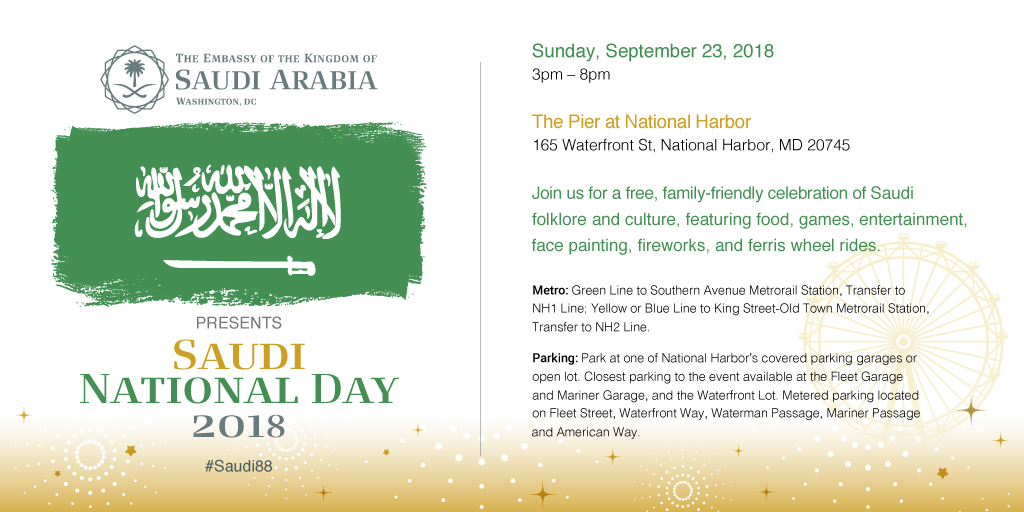 September 18, 2018
The Custodian of the Two Holy Mosques King Salman bin Abdulaziz and His Royal Highness Crown Prince Mohammed Bin Salman received at Al-Salam Palace in Jeddah the President of Eritrea Isaias Efwerki and the Prime Minister of Ethiopia Abiy Ahmed Ali to oversee the signing of a historic peace agreement between Eritrea and Ethiopia. The agreement, known as the Jeddah Peace Agreement, officially ends 20 years of war between the two countries.
Pages