Facts & Figures
This page provides a brief introduction to various aspects of the Kingdom of Saudi Arabia:
Flag
Green background, with in white letters the Muslim creed in Arabic: "There is no god but God: Muhammad is the Messenger of God."

Emblem
A date palm, representing vitality and growth, and two crossed swords, symbolizing justice and strength rooted in faith.

Location
Southwest Asia, at the crossroads of Europe, Asia and Africa; extending from the Red Sea in the west to the Arabian Gulf in the east; bordered on the north by Jordan, Iraq and Kuwait, on the south, by Yemen and Oman, and on the east by the United Arab Emirates, Qatar and Bahrain.
Terrain
Varied; fairly barren and harsh, with salt flats, gravel plains and sand deserts; a few man-made lakes but no permanent streams; in the south, the Rub Al-Khali (Empty Quarter), the largest sand desert in the world; in the southwest, mountain ranges of over 9,000 feet.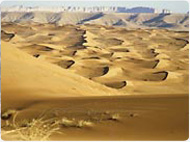 Climate
June through August, over 110 degrees Fahrenheit midday in the desert; humidity in coastal regions up to 100 percent; elsewhere, mild; possible winter temperatures in the northern and central regions dropping below freezing; rainfall, from none at all for up to 10 years in the Rub Al-Khali, to 20 inches a year in the mountains of Asir Province.
Population
31.7 million, including nearly 11.5 million expatriates (2016 estimate).
Religion
Islam, which is the basis of the legal system and of government.
Language
Arabic; English widely spoken in urban areas.
National Day
September 23, commemorating the foundation of the modern Kingdom of Saudi Arabia in 1932.
Rulers
King Abdulaziz bin Abdelrahman Al-Saud, the founder (1932-1963), followed by his sons: King Saud (1953-64), King Faisal (1964-75), King Khalid (1975-82), King Fahd (1982-2005), King Abdullah (2005-2015) and the current ruler, Custodian of the Two Holy Mosques King Salman bin Abdulaziz.
Government
Islamic state based on principles prescribed by the Qur'an (Islam's Holy Book) and the Shari'ah (Islamic law); Provincial Council System, Consultative Council (Majlis Al-Shura), and Council of Ministers.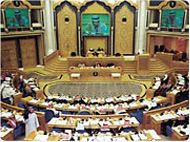 Time
Greenwich Mean Time plus three (GMT+3) equals Eastern Standard Time plus eight (seven during Daylight Savings Time).
Calendar
Islamic (Hijrah), dating from emigration of the Prophet Muhammad from Makkah to Madinah; weekend, Friday and Saturday.
The 12 months of the Islamic Lunar Year
Muharram, Safar, Rabi' Al-Awal, Rabi' Al-Akher, Jumada Al-Awal, Jumada Al-Akher, Rajab, Sha'ban, Ramadan, Shawwal. Dhu Al-Qadah , Dhu Al-Hajjah .
Holidays
Closure of all offices and schools on Eid Al-Fitr, the feast of the breaking of the fast, from the evening of the twenty-fifth day of Ramadan through the fifth day of Shawwal; Eid Al-Adha, the culmination of the Hajj, from the fifth through fifteenth day of Dhu Al-Hajjah; and September 23, National Day.
Business
Government offices Sunday through Thursday from 7:30 am to 2:30 pm; private businesses from 8:00 am to noon and 3:00 pm to 6:00 pm; general banking from 8:00 am until noon and from 5:00 pm until 8:00 pm and markets and shops from 8:00 am until 10:00 pm.
Currency
Saudi Riyal (SR) pegged to U.S. dollar ($1=SR3.745); bank notes, in Arabic and English, in denominations of 1, 5, 10, 50, 100 and 500 riyals; coins in denominations of 5, 10, 25, 50 and 100 halalahs, with 100 halalahs equal to one riyal; metric system in use.