Minister of State for Foreign Affairs and Climate Envoy Adel bin Ahmed Al-Jubeir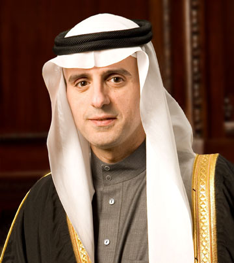 His Excellency Mr. Adel Al-Jubeir was appointed the Saudi climate envoy following a royal decree in May 2022.
He has also been the Minister of State for Foreign Affairs since December 2018.
Prior to his current roles, Mr. Al-Jubeir was appointed Minister of Foreign Affairs in April 2015.
Mr. Al-Jubeir was born February 1, 1962, in Majma'ah (Riyadh Province), Saudi Arabia, and attended schools in the Kingdom, Germany, Yemen, Lebanon, and the U.S. He obtained a B.A. summa cum laude in political science and economics from the University of North Texas in 1982, and an M.A. in international relations from Georgetown University in 1984.
In 1987, Mr. Al-Jubeir was appointed to the Saudi Diplomatic Service and posted to the Royal Embassy of Saudi Arabia in Washington, where he served as Special Assistant to the Ambassador. In 1990-91, he was part of the Saudi team that established the Joint Information Bureau at Dhahran during Operation Desert Shield/Desert Storm. He was a member of the GCC delegation to the Madrid Peace Conference in October 1991, and a member of the Saudi delegation to the Multilateral Arms Control Talks in Washington in 1992. In December 1992, he was dispatched with the Saudi Armed Forces to Somalia as part of Operation Restore Hope.
Mr. Al-Jubeir was appointed Director of the Saudi Information and Congressional Affairs Office in Washington in 2000, and was named Foreign Affairs Advisor in the Crown Prince's Court in the fall of 2000. In August 2005, the late King Abdullah bin Abdulaziz appointed Mr. Al-Jubeir to the position of Advisor at the Royal Court until his appointment as ambassador to the United States on January 29, 2007, a position he held until his appointment as foreign minister.
Mr. Al-Jubeir was Visiting Diplomatic Fellow at the Council of Foreign Relations in New York, 1994-95. He has lectured at universities and academic institutions in the U.S. and has appeared frequently in the media. In 2006, he received an honorary doctorate in humane letters from the University of North Texas.
Mr. Al-Jubeir is fluent in Arabic, English and German.